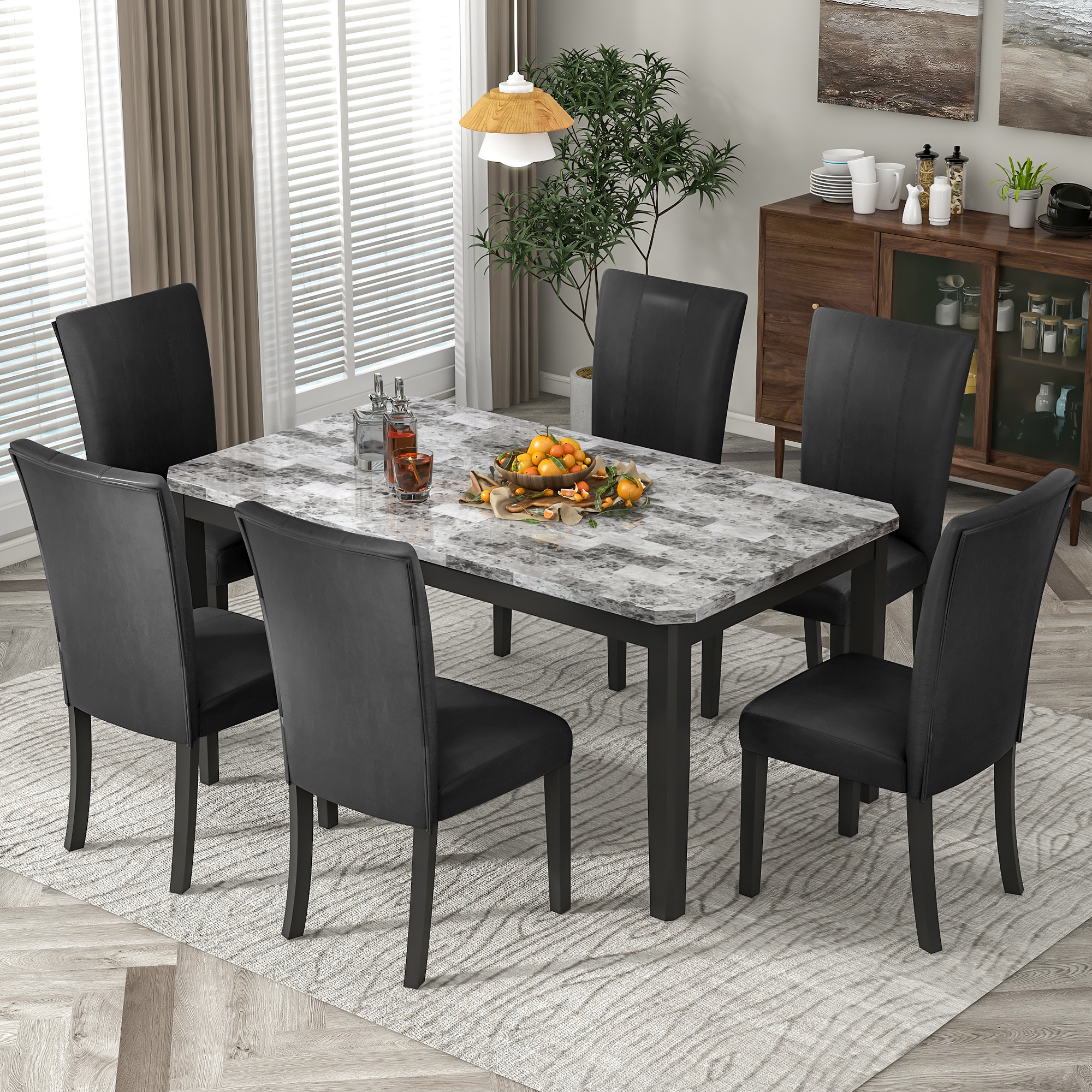 Description:
This Dining Table Set is equipped with a grey grid-pattern faux marble dining table and 6 PU leather chairs is a stunning addition to your dining room/kitchen. The set comes in a sophisticated and clean-silhouette appearance, emphasising the elegance and luxurious style of the piece, making it the ideal centrepiece that blends in to any decor. The ample amount of seating and spacing on the dining table is ideal for family dining and game nights with friends, allowing intimate gatherings and nights around this beautiful faux marble table.
Our Features:
#1 [Quality Guaranteed]
The sophisticated Faux Marble Dining Table is crafted from quality rubber wood legs and MDF base, providing lasting sturdiness and durability. The PU leather chairs are generously padded with high density sponge cushion foam for an exhilarating comfort experience. The chair leg is made of premium rubberwood that forges solid stability that supports posture of users as they lean onto the back of the chair.
#2 [Comfortable and Ergonomic Design]
The ergonomic chairs has been designed to best adapt and compliment to the human body, including considerations of postures, comfort level and support. The dense cushions of the dining chairs establishes maximal relaxation and restful experience of the users, providing the perfect plush comfort level. The deluxe leather texture possess a beautiful shiny appearance that is elegant and stylishly fashionable. The height of the table is well-adjusted in which it will allow an average-sized person to have ample spacings between their legs and the table, and reach out for food and cutlery easily and comfortably.
#3 [Easy to Clean]
The dining table imbues any space with a rich luxurious tone and its smooth, glossy and cool textural surface is pleasant to touch. The coating and polishing of the faux marble table top makes the table surface stain resistant and can be cleaned easily with damped cloth.
#4 [Stylistic Elements]
4.1 [Dining Table]
Our featured corner-cut rectangular dining table comes in a modern minimalist design that integrated natural wood and prevailing tasteful faux marble table top. The gorgeous faux marble table top brings in a magnificent and airy feeling to the dinning atmosphere, this style is timeless and powerful. This graceful mixture of utility and aesthetic flourishes the overall style of the set. In addition, the light grey tabletop will handle and camouflage stubborn stains well, avoiding any stain problems.
4.2 [Dining Chairs]
The chairs are completed with black rubber wooden legs, detailed textures and rich proportions to match the contemporary minimalistic design of the set. This graceful dining set is complimentary to many home decors and instantly brighten your dining room/kitchen.
#5 [Easy Assembly]
The Dining table set is delivered in 4 packages, along with the manual and full set of hardware necessary to guide you through the process of assembly, and the set will definitely be assembled conveniently.
Description

Product Type

Table set

Table Top Size

66" x38 "

Color(main)

Grey,B